The Distinguished Public Service Awards Ceremony
The Distinguished Public Service Awards Ceremony will take place on November 7, 2023, from 3:30-6pm at the Hilton Naples. Tickets and sponsorship opportunities are available, and can be found at napleschamber.org/events/signature-events/ or by emailing Bethany Sawyer, vice president of membership and investors at Greater Naples Chamber, at bethany@napleschamber.org.
For More information and details on nominations, click here.
2024 Annual Member Dinner March 20th
Annual Member Dinner is at the Hilton Naples Hilton on Wednesday, March 20, 2024. 5 pm-9 pm
Tickets for Members: Free
Tickets for Non-Members: $75.00
For more information email: admin@collier100 club.org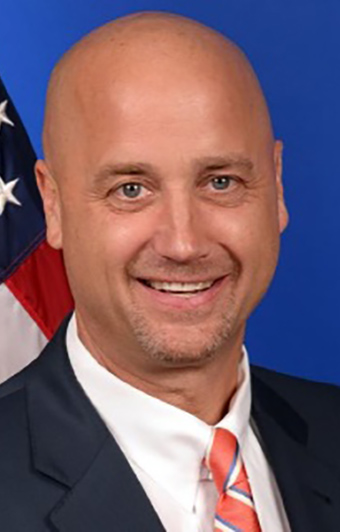 Speaker: John David Kuchta
John David Kuchta is a retired FBI Supervisory Special Agent, former Federal Prosecutor and U.S. Diplomat. Kuchta was awarded the FBI Medal of Valor and the Attorney General's Award for Heroism in recognition of exceptional heroism and voluntary risk of life in the face of criminal adversaries; the FBI Star for split second decision making under fire while suffering grievous injury; the Attorney General's Award for Excellence in furthering National Security Investigations; two United States Attorney's Office Law Enforcement Officer of the Year awards; Florida 20th Judicial Circuit Lee County 100 Law Officer of the Year Award, Anti-Defamation Shield Award in recognition of law enforcement's significant contributions toward protecting America from hate crimes, extremism and international terrorism; and the FBI Combat Theatre Ribbon in recognition of conducting investigations of National importance in a war zone.
Kuchta earned his undergraduate degree with honors from the University of Pittsburgh. Kuchta worked full time while attending night law school at Duquesne University in Pittsburgh, Pennsylvania. He is a retired member of the Pennsylvania Bar and a member of the Florida Bar in good standing. Upon graduation from law school, he clerked for the late Honorable Patrick J. Tamilia for the Superior Court of Pennsylvania. As a federal prosecutor in the Alexandria Division of the Eastern District of Virginia (The Rocket Docket) Kuchta prosecuted all manner of felony and misdemeanor crimes to include drug trafficking, weapons violations, crimes against children, crimes on federal reservations and white-collar crimes.
In 1991 Kuchta became an FBI Special Agent Attorney and an FBI Legal Advisor in 1993. After graduating from the FBI Academy, Kuchta served in Washington, D. C., the FBI Tampa Division, Bagram Air Base, Afghanistan, and as an FBI Assistant Legal Attaché at the U.S. Embassy in London, England. During his 27-year career in the FBI, he conducted investigation which resulted in criminal convictions of drug trafficking organizations, violent gangs, white collar criminals, money launderers, corrupt public officials, terrorists and corporations involved in violating the Foreign Corrupt Practices Act.
After retiring from the FBI, Kuchta worked in the corporate sector conducting international ethics and compliance investigations for a Fortune 50 Corporation on behalf of the General Counsel.
Over 30 years ago John swore an oath to uphold and defend the Constitution of these United States. He retired in 2018 after 27 years of service as one of the most highly decorated living FBI Special Agents. You'll need the experience and knowledge of the inner workings of the FBI and the Department of Justice If you find yourself on the wrong end of a federal investigation. And you can be assured he will fight to uphold your rights and ensure that the government meets its heavy burden placed on it by our Constitution. Whether you are a private citizen or corporation criminally or civilly charged; had your security clearance revoked, discriminated against in an employment setting due to your religious, political beliefs or skin color; or fear retaliation for blowing the whistle on cover-up and corruption; know that he will fight for you in the halls of justice.