Collier County honored the 100 Club in a special ceremony September 8 before the Collier County Board of Commissioners.
The Collier lawmakers adopted a special proclamation in tribute to the 100 Club and it's valuable work to provide immediate financial assistance to the families of fallen law enforcement officers and emergency responders.
Representing the Collier 100 Club at the county commission was (left to right) Christopher Spencer, Collier County firefighter; Pat O'Connor, 100 Club president; and Scott Salley, special deputy, Collier County Sheriff's Office and 100 Club founder.
Collier County Commissioners are (left to right) the Honorable(s) Penny Taylor, Donna Fiala, Tim Nance (chairman), Georgia Hiller and Tom Henning.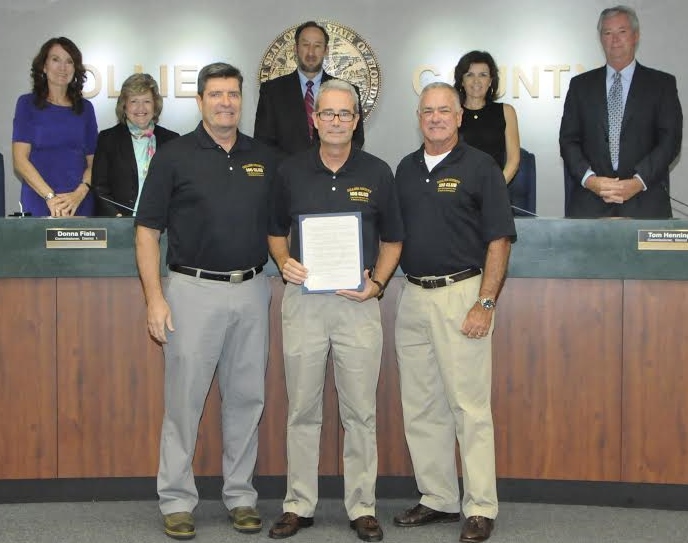 The lawmakers' proclamation read, in part:
WHEREAS, The Collier County One Hundred Club has pledged its continuing financial support to any
member of the protective services and their family when a member is injured or killed in
the line of duty with reasonable immediacy once the Club has been contacted by the
agency head; and,
WHEREAS, The Collier County One Hundred Club has been a supportive force in the community and
understand that when tragedy strikes, the effects are swift and devastating and thus the
organization has made its mission to provide support, guidance, monetary aid or other
compensation or aid to the families and members of the protective services who risked
their lives to save others; and,
WHEREAS, The Collier County One Hundred Club's Board of Directors have selected September 11 of
each year, which is also Patriot Day and the National Day of Service and Remembrance, as
a date to acknowledge and remember the 2,977 people killed on September 11, 2011, that
our shared freedom does not come easily or without costs.
NOW THEREFORE, be it proclaimed that the Collier County Board of County Commissioners hereby
honors the work and contributions of the Collier County One Hundred Club and praises their dedication
to care for our first responders and their families.
DONE AND ORDERED THIS 8th Day of September 2015.
BOARD OF COUNTY COMMISSIONERS
COLLIER COUNTY, FLORIDA
_________________________________________
TIM NANCE, CHAIRMAN